Jet silk Song Jin won praise from experts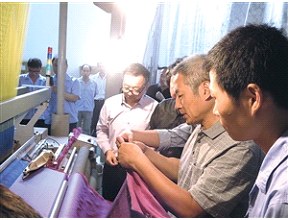 Recently, an appraisal meeting was held in Suzhou Intellectual Weaving Culture Technology Co., Ltd., a wholly-owned subsidiary of Wangong Group. The "Jet Silk Song Jin" developed by the company became the protagonist of the appraisal conference. Accompanied by the leaders of the Provincial Silk Association and some experts from the Wujiang Silk Industry, accompanied by relevant leaders of the Taihu New City Economic Development Bureau, they visited the Song Jin production workshop and identified 10 products.
Song Jin is one of the four famous novels in ancient China. After the APEC meeting, Song Jin was promoted in Suzhou. However, its weaving technology has always been a difficult point in the country. Wu Jiang Dingsheng successfully used the rapier looms in the shuttleless loom to successfully weave Song Jin, which enabled Song Jin to further develop. This time, the new product developed by the intellectual brocade culture technology company "Jet Silk Song Jin" is an innovation in the field of air-jet silk weaving. It inherits Song Jin's weaving skills with modern technology and injects new vitality into the development of Song Jin industry.
Air jet loom and electronic jacquard are two exclusive products of Wangong Group in the field of mechanical production. In the past two years, the intellectual brocade culture technology company has worked hard to integrate the air jet looms and electronic jacquard machines. Through a number of technological innovations, it has been combined into a jet brocade machine to successfully weave the "Jet Silk Song Kam". At present, the company has been able to weave 10 kinds of Song Jinhua style, and supply the luggage factory, clothing factory, etc., the customer's early trial reputation is excellent.
At the appraisal meeting, the intellectual brocade culture technology company carried out a project work summary, a technical summary report, a benefit analysis report, etc., and a pair of new products from five provincial silk association experts were commented. Experts said that the air-jet looms made by Song Jin have not been heard in China at present, which is truly innovative. On the basis of product success, the company should strengthen publicity, actively participate in Suzhou Expo, and review and review new provincial products. At the same time, experts hope that Wangong can continue to work hard, focus on products, produce more Song Jinhua style, and expand production.